Want to Crack the ACC Exam 2023?
Attend 3 Free LIVE Classes From India's Leading Mentors
There's no shortcut to success. That's why you need comprehensive coaching classes to succeed.
30,000+ students have cleared their Army Cadet College (ACC)
Coaching + Expert Faculty + Hostel/PG Facility
100% Results – Full E-Study Materials + 4 Hours Classes + Highest Success Rate + Video Lectures + Daily Doubt Sessions + Mock Test + Previous Question Papers.
India's No. 1 Army Cadet College (ACC) Exam Coaching in Chandigarh
Online and Offline Classes Available*
We are proud of these Chandigarh Academians who have cracked their exams with sheer hard work and dedication.
Prepare for Army Cadet College (ACC) Exam With A Trusted Name
Army Cadet College (ACC) Exam New Online & Offline Batches for 2023
The Army Cadet College (ACC) Wing at Indian Military Academy recruits soldiers and trains them to become commissioned officers in the Army. The ACC Exam is conducted twice a year. Chandigarh Academy students have gained great success in ACC Exam in the past.
Our team of highly experienced teachers, well-detailed course curriculum, and 100% relevant mock tests ensure that our students receive the best ACC exam coaching in Chandigarh. We offer both online and classroom batches of small sizes so that students get the most out of each session.
Attend a Free Demo session
Join in for a free guidance session & Live subject classes. Attend it conveniently from your home.
India's leading Coaching Institute for
Army Cadet College (ACC) Exam Preparation
Chandigarh Academy Facilities
At Chandigarh Academy, we pride ourselves in providing world-class facilities to our students. We are an ISO-certified institute operating since the year 2010 with a very successful track record. Here are some of the most important facilities that we offer to all students preparing for NDA Exam Entrance Exam.
Online & Offline Classes
Choose whichever way of learning you are more comfortable with. Enjoy complete flexibility!
Latest Study Material
Comprehensive study material will make learning concepts very easy. We update our study material regularly.
Experienced Faculty
Teachers with 12+ years of professional experience and many awards to their name.
Hostel Facility
Clean, hygienic, and safe hostel accommodation for students hailing from far-away areas.
ACC Exam - Eligibility Criteria, Course Syllabus & Selection Process
Here's everything you need to know about the Army Cadet College (ACC) Exam. You can also speak to our counsellors if you wish to know more or address any doubt about the Army Cadet College (ACC) Exam.
The Army Cadet College (ACC) Wing at Indian Military Academy also known as the Siachen battalion now provides training to the soldier, airmen, and sailors from the regular army, navy, and air force for commission as officers in the Indian Army. This exam is conducted to recruit soldiers and train them to become commissioned officers in the Army. The ACC exam is conducted twice a year.
A candidate must have passed HSC or 12th std or equivalent to appear in the exam.
The age limit to apply for the ACC exam is given below
Minimum Age: 20 years
Maximum Age: 27 years
ACC Exam Syllabus  
The candidates should refer only to the officially released ACC Exam Syllabus to plan a preparation strategy accordingly. The selection process of the ACC  exam comprises two stages i.e., a Written Examination, followed by SSB Interview, and Medical Test.
The topics that are included in the ACC Exam Syllabus  for each subject are: –
Subject
Syllabus
General Mental Ability Test

Analogy
Classification
Series
Coding-decoding
Blood relation
Direction sense
Logical Venn diagrams
Alphabet test
Seating arrangements
Mathematical operations
Arithmetical reasoning
Number, ranking & time sequence
Eligibility test
Syllogism
Statement and Arguments
Statement and Conclusion
Statement and Assumptions
Statement and Courses of Action
Deriving Conclusion
Assertion and Reason
Punch line
Situation reaction test
Cause and effect
Analytical reasoning

Current and General Awareness test

Latest Current affairs
Indian constitution
Indian history
Indian economy
Indian politics
Geography
Indian Navy & Military
Religions
Famous books & authors
Sports
Awards
Science and Discoveries
Indian culture
Indian Agriculture

Interactive Communicative English

Article
Noun and Pronoun
Adjective
Preposition
Conjunction and modals
Verbs
Tenses
Types of sentences
Idioms and Phrases
Direct and indirect speech
Active and passive voice
Synonyms and antonyms
One-word substitution
Spot the error
Cloze test
Para jumble
Sentence jumble
Reading Comprehension
Sentence Improvement

Academic Content test

Class 12th level General Science, Maths

and Humanities
The ACC Selection Process 2022 is divided into two stages: Written Test, followed by SSB Interview and Medical Test.
As per the ACC Exam Pattern, the SSB Interview is conducted for five days.
Candidates can avail of a maximum of 3 chances of entry for ACC.
The exam is conducted twice a year.
The last date to apply is yet to be notified.
You can fill out the form at the Indian Army's official website
ACC Exam Pattern 2022
The ACC Selection Process 2022 comprises two stages i.e.,
Written Test
SSB Interview and Medical Test
The ACC Exam Pattern is available for candidates to review at various stages of the selection process. The exam pattern assists candidates in preparing for the upcoming examination.
Written Test
The exam pattern consists of a four-paper written test that includes:
Paper 1: General Mental Ability
Paper 2: Current General Awareness
Paper 3: Interactive Communicative English
Paper 4: Academic Content test
A candidate must pass all three papers to be eligible for the interview. There are 150 objective questions on each paper.
General Mental Ability
This section will have questions based on Mental Ability.
Each question carries 2 marks.
| | | |
| --- | --- | --- |
| Subject | Number of Questions | Maximum marks |
| Verbal Reasoning | 75 | 150 |
| Non-verbal Reasoning | 15 | 30 |
| Numerical Ability | 60 | 120 |
| Total | 150 | 300 |
Current General Awareness
This paper assesses the candidate's general knowledge.
There are also 150 objective-type questions in this section.
Topics
Number of Questions

Environment general awareness
Current affairs
National & International events
Military awareness

75
Interactive Communicative English
This paper is divided into two sections. The topics of these two papers are Interactive and Communicative English.
Paper I will have each question of 1 mark.
Paper II will have each question with 2 marks.
| | | | |
| --- | --- | --- | --- |
| Paper | Number of Questions | Maximum marks | Duration  |
| Paper I (Objective type) | 120 | 120 | 1 hour |
| Paper II (Descriptive test) | 90 | 180 | 2 hours |
Academic Content Test
This section again will have 150 questions of objective type.
Each question will carry 2 marks.
| | | |
| --- | --- | --- |
| Subject | Number of Questions | Maximum marks |
| Mathematics | 50 | 100 |
| General Science | 50 | 100 |
| Humanities | 50 | 100 |
| Total | 150 | 300 |
SSB Interview
The SSB Interview takes place over the course of five days. Candidates who pass the written exam are invited to the SSB interview. During these five days, candidates are tested on a variety of parameters.
SSB Interview Schedule
Day 1 (Stage I)

Intelligence test
Picture Perception & Discussion Test

Candidates who clear this stage have to appear for Stage II

Day 2 (Stage II)

Psychological test
Group task
Personal Interview

Day 3
GTO test
Day 2- 4
Interviews
Day 5
Conference
Medical Test
A candidate must undergo a medical examination to determine his physical fitness by a Medical Board before being appointed.
Enroll in Chandigarh Academy's Best Coaching Classes.
Medical test is a part of the selection process. So make sure that you are medically fit.
Develop a habit of reading the newspaper every day.
Make a proper timetable and follow it every day.
Go through the syllabus thoroughly and prepare accordingly.
Be motivated to crack the exam and maintain consistency.
Our Faculty
Here's our faculty with years of experience in providing coaching for all government and defence exams. The pedagogies that they follow are one of the most innovative and engaging. As students, you can ask them as many doubts as you want and they will be more than happy to help each time. Chandigarh Academy has been able to maintain an impressive track record only because of the hard work and dedication of its faculty.
Surjeet Singh
Radha
Rajwinder Kaur
Rajneesh Sharma
Rajvinder
Varun Kumar
Gurpreet Kaur

Charanjeev Singh
Pankaj Kumar
Vishavjeet Singh
Raghav Nehra
Neeraj Kapoor
Gagan Kumar
Gurpreet Singh
Shilpa Sharma
Ravinder Singh
Mukesh Kumar
Prateek Bandhu
Rakesh Jain
Poonam Sharma
How does it work?
Our process is very simple and straightforward. First, our counselors guide you in the right direction. Then, once you are well-prepared after your coaching, we help you prepare for the interview. We also provide form-filling assistance, in case you are not aware of the online application process.
Consult with Counsellor
Our counsellors are your first point of contact. They will guide you in the right direction.
Coaching (Online & Offline)
Feel free to choose from an online batch or classroom sessions. Both modes are available.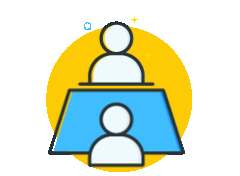 Interview preparation
Most of the exams have one interview round. We will groom you for a good face-to-face performance.
Application Guidance
In case, you need any assistance with the applications forms, we are always there to help.
Leading NDA Exam Coaching Institute in Chandigarh
3,647+ Students have achieved their goals with Chandigarh Academy. It's your turn now!
of our students have gained admission into their dream school/college
of our students have reported 100% satisfaction after completing their coaching.
of our students have cleared their entrance exam in the first attempt.
54,253+ individuals have trusted Chandigarh Academy to power up their careers
More than 54,253 people so far have trusted Chandigarh Academy to achieve their goals and dreams. If you too are looking to enjoy professional growth and better income prospects, your golden opportunity is here.
500+ 5 Star Student Reviews

100+ 5 Star Student Reviews
300+ 5 Star Video Reviews
FREQUENTLY ASKED QUESTIONS