RMS Exam Coaching in Chandigarh
RMS Exam Coaching in Chandigarh – Chandigarh Academy provides the Best RMS online Coaching for exams 2019-20. We provide coaching for RMS entrance exam for Class 6 and class 9. We trained the students from all over India. It is the Best institute for RMS Coaching in Chandigarh. We have the best infrastructure for the students. Chandigarh Academy also provides RMS EXAM COACHING IN CHANDIGARH and also RMS COACHING IN MOHALI, PANCHKULA. Chandigarh Academy is very well known for RMS ADMISSION TEST and they also provide RMS ONLINE CLASSES for their students.
Join RMS Exam Coaching in Chandigarh, Call @9915109266
Daily Classes + Full Study Material + 100% Results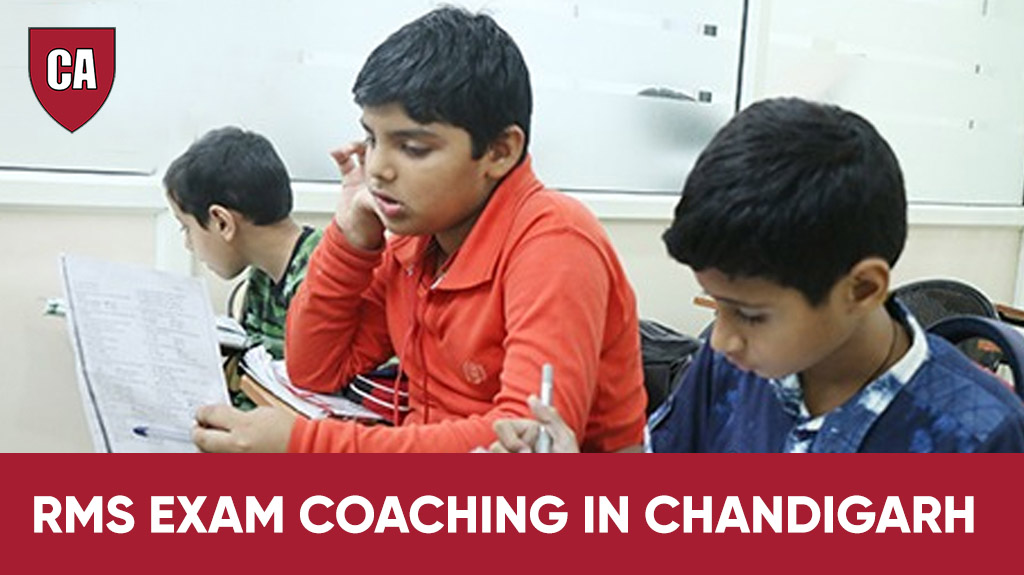 Rashtriya Military School was established as King George's Royal Indian Military School to take care of the education of the sons of defense personnel. In 1952, the schools were reorganized on Public School lines and admissions were made open to the sons of Defence Service Officers and civilians. In 1954, the school became a member of the Indian Public Schools Conference (IPSC) and continues to be an active member to date. The schools were renamed Military Schools in 1966 and its old motto; 'Play the Game' was replaced with 'Sheelem Param Bhushanam' which means Character is the Highest Virtue. On 25th Jun 2007, the schools got their present name "Rashtriya Military School". The school has several of its alumni occupying high positions in the Armed Forces and in other sectors doing stellar service to the motherland. These were established at Ajmer, Bangalore, Belgaum, Chail, and Dholpur in British times and referred to as King George's Military Schools.
RMS EXAM ELIGIBILITY CRITERIA
AGE: Only boys between 10 to 11 years of age for Class VI of age as on 01 Jul other academic year are eligible for admission. Six months of relaxation in upper age limit is permissible for the wars of personnel killed in action.
QUALIFICATION: Candidates should have passed Class V for Cass VI from a govt. / recognized school before the date of admission to a Rashtriya military school. However, a student studying in Class V is eligible to appear in the respective Entrance Test.
RMS Entrance Exam Syllabus
As we know that the Rashtriya Military School Common Entrance Test (RMS CET) conducts for boys students to admission in class 6th and 9th of military schools. So if you want to take admission in these schools then you will have to appear in the RMS CET Examination. We are giving here syllabus for both 6th and 9th class, so while preparing for the examination follows Military School Entrance Exam Syllabus 2019.
For Class 6th: Intelligence, Mathematics, General Knowledge and English of 5th Class.
For Class 9th: English, Hindi, Science, Social Science and Mathematics of 8th Class.
Section – I: Mathematics
Natural Numbers, LCM and HCF, Fractions, Unitary Method, Average, Percentage, Profit and Loss, Simple Interest, Square Root, Area and Perimeter, Ratio and Proportion, Lines and Angles, Temperature
Section – II: English
English Grammar, Vocabulary Bag, One Word Substitution, Idioms, Synonyms, Antonyms and Homonyms, Articles, Prepositions, Conjunctions, Letter Writing
Section – III: General Knowledge
Know Your Country India, States of India, Union Territories, First in India, India – Important Facts, Our Defence Forces, Atomic Power Stations in India, Important Days, Classical Dances of India, National Parks and Wild Life Sanctuaries in India, Important Towns on Rivers, Countries, Capitals and Currencies, Inventions and Inventors, Some Historical Events / Land Marks, Games and Sports, Some Games and Sports Terms etc.
Section – IV: Intelligence Test
Classification, Analogy Test, Series Completion, Mathematical Operations, Coding and Decoding, Alphabetical Arrangement of Words
Rashtriya Military School (RMS) Exam Pattern
Here we are giving the complete exam pattern for Rashtriya Military School Common Entrance Test, so students who are going to take participate in this examination can follow it. If students will prepare themselves on the basis RMS CET Exam Pattern then it will helpful for them in getting higher marks or rank in the examination. We are providing you separately exam pattern for class 6th and 9th so check your respective exam pattern.
Subject
Maximum Marks
Passing %
For Class 6th
Intelligence
50
40%
English
50
35%
Mathematics
50
40%
General Knowledge and Current News
50
40%
Interview
20
For Class 9th

Paper-I

·         English

·         Hindi

·         Social Science

50

20

30

50%

Paper II

·         Maths

·         Science

50

50

50%
Interview
50
Why should join Chandigarh Academy for

RMS Exam Coaching in Chandigarh

?
We have a team of expert facilities who prepare you for RMS ENTRANCE EXAM COACHING.
Chandigarh Academy provides you a Competitive environment which will boost your moral.
Special classes are conducted for doubtful sessions and including RMS MOCK TESTS.
We also provide you RMS STUDY MATERIAL with the Best RMS BOOKS that will cover your RMS Syllabus very efficiently
Our faculty motivates you on a regular basis till you achieve your goal and also provides RMS ONLINE STUDY material for RMS ONLINE TEST.
RMS LAST YEAR paper will help you a lot.
We also provide special concessions for the particular type of group.
Chandigarh Academy also provides RMS ONLINE COACHING for their students.
Contact Chandigarh Academy for RMS Coaching Institute in Chandigarh
Address: SCO 54-55, 3rd Floor, Sector 34-A, Chandigarh, India 160022
Email: academychandigarh@gmail.com
Call: +91-9915109266