Merchant Navy Coaching in Chandigarh
Merchant Navy Coaching in Chandigarh – Chandigarh Academy is the best MUI CET Coaching Academy in Chandigarh, India. Interested aspirants, if you want to join Indian Navy, this is the only institute who provides the Merchant Navy Coaching in Chandigarh.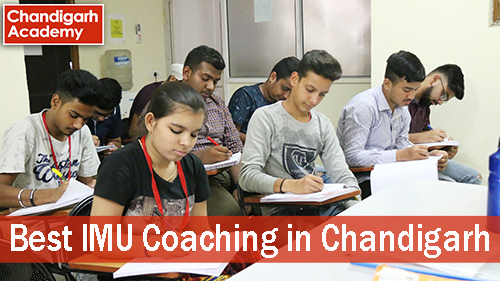 IMU CET Coaching in Chandigarh



Full Study Materials + Daily Classes + 100% Results
Call for free demo class & information:
We assure 100% selection in IMU-CET & Sponsorship Test 2018-19 Batch.
Selection Process
IMU University conducts a common entrance exam and those who qualify written exam then after are called for counseling or GD or PI as per the course applied. At the time of the interview, the candidate must bring all the relevant documents as per the requirement of the university.
IMU-CET Coaching Classes in Chandigarh
IMU-CET Coaching is the best way to score well at IMU-CET. Qualifying in IMU-CET is mandatory to get admission in any undergraduate programme of IMU. Candidates those who are willing to get admission in IMU-Campuses or its affiliated institutes has to qualify in IMU-CET. Join us to get a good score at IMU-CET.
We offer the best IMU-CET Coaching classes with experienced faculty. We provide the study-materials which are useful for both IMU-CET and Companies Sponsorship.
Our core benefits:
100% results
Experience faculty members
Full Exclusive study material
Test series and mock test
Doubt clearing sessions
one to one sessions
backup classes
IMU CET Examination Pattern
Subjects – Mathematics (50 Marks), Physics (50 Marks), Chemistry (50 Marks), General Knowledge (25 Marks), English (25 Marks), General Aptitude (25 Marks)
Total Marks: 200
Time Duration – 3 hours
Note:   There is no negative marking for wrong answers.
Best Preparation for Merchant Navy Exam
Join Chandigarh Academy
Call us at

 +91-9915109266
IMU-CET Study materials
We provide the study materials which are useful for both the IMU-CET & Companies Sponsorship test.

IMU-CET Mock Test
We conduct IMU-CET Mock test every week to make a candidate familiar with the IMU-CET Entrance Exam.
Join us to get entry-level support, guidance, preparatory material for both sponsorship & IMU-CET and best coaching classes for IMU-CET by our experienced faculty.
IMU-CET coaching classes equipped with Great Salient Features.
Experienced, Well Qualified & Expert Teachers.
Every Year 100% Result.
Quality Study Material for Self Study
Career Guidance by Marine Professionals.
Highly Well Set up & Calm Environment for Learning.
Sponsorship Guidance and Preparatory books.
Eligibility Criteria of IMU CET
Following are the eligibility criteria:
Candidate who has scored 60% (PCM i.e. Physics, Chemistry, and Maths) and 50% (English) in 12th class
B. Sc in Physics/ Mathematics/ Chemistry/ Electronics with 55 % marks.
B. Tech candidates with 50 % in English recognized by AICTE.
Sc- 3 years- 60% (PCM) and 50% (English) in 12th Classes. For B.Sc in Ship Building and Repair only 50% in PCM.
Age Requirement
A candidate needs to have age not greater than 25 years at the time of applying. For reserved category students like SC/ST Not more than 30 years of age.
IMU CET Examination Pattern
Syllabus of the 12th class level will be followed in IMU CET exam.  Multiple choice questions are asked in this exam.
A total number of questions – 200.
Time Duration – 180 minutes or 3 hours.
IMU CET UG Syllabus 2020
For Undergraduate Programmers
The Syllabus for CET for UG programmers will be Physics, Mathematics, Chemistry, English, General Knowledge and Aptitude at Plus 2 level (CBSE, ISE, and State Boards).
For Postgraduate Programmers
The Syllabus for the CET for MBA and M.TECH:
For MBAs– i) Quantitative ability, ii) Data interpretation, iii) Verbal ability and iv) Logical reasoning.
For M.Tech – English, General Knowledge, Aptitude, Mathematics and Engineering.
All admissions to the various UG and PG programmes of the IMU and its Affiliated Institutes will be through All-India Common Entrance Tests (CET) conducted every year 2 times, usually in the month of November and MAY.
There will be a CET common to all UG programmes.
1. B.Tech (Marine Engineering)
2. B.Tech (Naval Architecture & Ocean Engineering)
3. B.Sc (Ship Building & Repair)
4. B.Sc (Maritime Science)
5. B.Sc (Nautical Science)
6. Diploma in Nautical Science leading to B.Sc. (Applied Nautical Science)
There will be a CET common to the 2 MBA programmes; another CET common to the 2 M.Tech programmes; and yet another CET for the programme. The results of the CETs are valid for the particular Academic session only.
1. MBA (Port and Shipping Management)
2. MBA (International Transportation and Logistics Management)
3. M.Tech (Naval Architecture and Ocean Engineering)
4. M.Tech (Dredging and Harbour Engineering)
1. Age Limit
Age as on the date of admission on 1st August 2015 shall be as follows:
i) Minimum age 17 years
ii) Maximum age 25 Years
Note: For Scheduled Castes (SC) & Schedule Tribe candidates (ST) Candidates maximum age relaxation is for five (5) years.
2. Reservations of Seats
For SC candidates – 15% Quota
For OBC candidates – 27% should be part of Non Creamy layer
For ST – 7.5%
For DA candidates – 3%
Note: Any candidate who is applying for the reserved category should have valid caste certificate as per government of India.
3. Physical Fitness
Candidate for admission to marine courses (DG, Shipping-approved courses) is required to produce a certificate for medical fitness by authorities authorized by Director General of Shipping.
4. Eyesight
a) Candidates joining DNS, B.Sc. (Nautical Science) & B.Sc. (Maritime Science) the degree course is not allowed to wear glasses and their vision should be 6/6 (normal) in each eye separately.
b) In case of candidates joining B. Tech. (Marine Engineering) degree course, glasses may be allowed but eyesight in each eye beyond plus/minus 2.5 will be rejected. Unaided vision should be 6/12 in both eyes minimum or 6/9 in the good eye and 6/12 in the other eye minimum.
Merchant Navy Coaching Centre in Chandigarh
Call 

Chandigarh Academy
@

9915109266
Syllabus of IMU CET
These six subjects are as follows:
1. English 25 questions
2. General Knowledge 25 questions
3. General Aptitude 25 questions
4. Mathematics 50 questions
5. Physics 50 questions
6. Chemistry 25 questions
Physics
Gravitation, Electromagnetic Induction and A.C., Electrons, and Photons, Radioactivity, Semiconductors, Heat Radiation, Wave Motion and Sound, Fluids, S.H.M., Rotational Motion of a Rigid Body, Magnetic Effects of Electric Current, Current Electricity, Electrostatics, Ray Optics, Wave Theory etc.
Chemistry
Nuclear and Radio Chemistry, Halogen Derivatives of Alkanes and organic hydroxy Compounds, Chemistry of Transition and Inner Transition Elements, Electrochemistry, Chemical Thermodynamics, and Energetic, Nature of Chemical Bond II, Adsorption and Colloids, Carbohydrates, Proteins and Fats, Chemical Kinetics, Coordination Chemistry etc.
Mathematics
Probability, Boolean algebra, linear in equations, limits and continuity, vector and 3-d geometry, matrices, statics & dynamics, indefinite integrals, definite integrals & its application, differential equations, etc.
Important Dates Of IMU CET 2020
| | | |
| --- | --- | --- |
| S.No. | Event | Important Dates |
| 1. | The beginning of Online Registration | 1st week of April 2020 |
| 2. | Last Date for Online registration | 2nd week of May 2020 |
| 3. | Downloading of Admit Card | 3rd week of May 2020 |
| 4. | IMU CET 2019 Date | 1st week of June 2020 |
| 5. | Result Announcement | 2nd week of June 2020 |
| 6. | Commencement of Online Counseling | 2nd week of June 2020 |
| 7. | Verification of Certificates | Last week of July 2020 |
| 8. | Commencement of Programmer | 1st week of August 2020 |
Subjects covered in IMU Exam:  Mathematics, Physics, Chemistry, General Knowledge, English and Aptitude.
Contact Us for Merchant Navy Coaching in Chandigarh
Address: SCO 54-55, 3rd Floor, Sector 34-A, Chandigarh
Mobile: 9915109266