Want to Crack the Merchant Navy Exam 2023?
Attend 3 Free LIVE Classes From India's Leading Mentors
There's no shortcut to success. That's why you need comprehensive coaching classes to succeed.
3,647+ students have cleared their Merchant Navy Entrance Exam
Coaching + Expert Faculty + Hostel/PG Facility
100% Results – Full E-Study Materials + 4 Hours Classes + Highest Success Rate + Video Lectures + Daily Doubt Sessions + Mock Test + Previous Question Papers.
India's No. 1 Defence Entrance Exam Coaching Academy
Online and Offline Classes Available*
We are proud of these Chandigarh Academians who have cracked their exams with sheer hard work and dedication.
Prepare for Merchant Navy Exam With A Trusted Name
Get Best coaching for Merchant Navy Exam
"Online & Offline New Batches" For 2022 - 2023.
Merchant Navy Coaching in Chandigarh
Merchant Navy Coaching in Chandigarh – Chandigarh Academy is the best MUI CET Coaching Academy in Chandigarh, India. Interested aspirants, if you want to join Indian Navy, this is the only institute who provides the Merchant Navy Coaching in Chandigarh.
IMU-CET Coaching is the best way to score well at IMU-CET. Qualifying in IMU-CET is mandatory to get admission in any undergraduate programme of IMU. Candidates those who are willing to get admission in IMU-Campuses or its affiliated institutes has to qualify in IMU-CET. Join us to get a good score at IMU-CET.
Attend a Free Demo session
Join in for a free guidance session & Live subject classes. Attend it conveniently from your home.
India's leading Coaching Institute for
Merchant Navy Exam Preparation
Chandigarh Academy Facilities
At Chandigarh Academy, we pride ourselves in providing world-class facilities to our students. We are an ISO-certified institute operating since the year 2010 with a very successful track record. Here are some of the most important facilities that we offer to all students preparing for NDA Exam Entrance Exam.
Online & Offline Classes
Choose whichever way of learning you are more comfortable with. Enjoy complete flexibility!
Latest Study Material
Comprehensive study material will make learning concepts very easy. We update our study material regularly.
Experienced Faculty
Teachers with 12+ years of professional experience and many awards to their name.
Hostel Facility
Clean, hygienic, and safe hostel accommodation for students hailing from far-away areas.
Merchant Navy Exam Eligibility Criteria, Course Syllabus, Exam Pattern & Selection Process
Here's everything you need to know about the Merchant Navy Exam Entrance Exam. You can also speak to our counsellors if you wish to know more or address any doubt about the Merchant Navy Exam.
IMU CET stands for Indian Maritime University Common Entrance Test. IMU CET is a national-level entrance examination conducted by Indian Maritime University for admissions into various disciplines of UG and PG courses offered by its five campuses: Cochin, Kolkata, Mumbai, Chennai and Visakhapatnam.
Candidates have to qualify IMU CET to be eligible for admission in the merchant navy.
Eligibility Criteria of IMU CET
Following are the eligibility criteria:
Candidate who has scored 60% (PCM i.e. Physics, Chemistry, and Maths) and 50% (English) in 12th class
B. Sc in Physics/ Mathematics/ Chemistry/ Electronics with 55 % marks.
B. Tech candidates with 50 % in English recognized by AICTE.
Sc- 3 years- 60% (PCM) and 50% (English) in 12th Classes. For B.Sc in Ship Building and Repair only 50% in PCM.
Age Requirement
A candidate needs to have age not greater than 25 years at the time of applying. For reserved category students like SC/ST Not more than 30 years of age.
IMU CET Examination Pattern
Syllabus of the 12th class level will be followed in IMU CET exam.  Multiple choice questions are asked in this exam.
A total number of questions – 200.
Time Duration – 180 minutes or 3 hours.
IMU CET UG Syllabus 2023
For Undergraduate Programmers
The Syllabus for CET for UG programmers will be Physics, Mathematics, Chemistry, English, General Knowledge and Aptitude at Plus 2 level (CBSE, ISE, and State Boards).
For Postgraduate Programmers
The Syllabus for the CET for MBA and M.TECH:
For MBAs– i) Quantitative ability, ii) Data interpretation, iii) Verbal ability and iv) Logical reasoning.
For M.Tech – English, General Knowledge, Aptitude, Mathematics and Engineering.
All admissions to the various UG and PG programmes of the IMU and its Affiliated Institutes will be through All-India Common Entrance Tests (CET) conducted every year 2 times, usually in the month of November and MAY.
There will be a CET common to all UG programmes.
1. B.Tech (Marine Engineering)
2. B.Tech (Naval Architecture & Ocean Engineering)
3. B.Sc (Ship Building & Repair)
4. B.Sc (Maritime Science)
5. B.Sc (Nautical Science)
6. Diploma in Nautical Science leading to B.Sc. (Applied Nautical Science)
There will be a CET common to the 2 MBA programmes; another CET common to the 2 M.Tech programmes; and yet another CET for the programme. The results of the CETs are valid for the particular Academic session only.
1. MBA (Port and Shipping Management)
2. MBA (International Transportation and Logistics Management)
3. M.Tech (Naval Architecture and Ocean Engineering)
4. M.Tech (Dredging and Harbour Engineering)
1. Age Limit
Age as on the date of admission on 1st August 2015 shall be as follows:
i) Minimum age 17 years
ii) Maximum age 25 Years
Note: For Scheduled Castes (SC) & Schedule Tribe candidates (ST) Candidates maximum age relaxation is for five (5) years.
2. Reservations of Seats
For SC candidates – 15% Quota
For OBC candidates – 27% should be part of Non Creamy layer
For ST – 7.5%
For DA candidates – 3%
Note: Any candidate who is applying for the reserved category should have valid caste certificate as per government of India.
3. Physical Fitness
Candidate for admission to marine courses (DG, Shipping-approved courses) is required to produce a certificate for medical fitness by authorities authorized by Director General of Shipping.
4. Eyesight
a) Candidates joining DNS, B.Sc. (Nautical Science) & B.Sc. (Maritime Science) the degree course is not allowed to wear glasses and their vision should be 6/6 (normal) in each eye separately.
b) In case of candidates joining B. Tech. (Marine Engineering) degree course, glasses may be allowed but eyesight in each eye beyond plus/minus 2.5 will be rejected. Unaided vision should be 6/12 in both eyes minimum or 6/9 in the good eye and 6/12 in the other eye minimum.
Subjects – Mathematics (50 Marks), Physics (50 Marks), Chemistry (50 Marks), General Knowledge (25 Marks), English (25 Marks), General Aptitude (25 Marks)
Total Marks: 200
Time Duration – 3 hours
Note:   There is no negative marking for wrong answers.
IMU University conducts a common entrance exam and those who qualify written exam then after are called for counseling or GD or PI as per the course applied. At the time of the interview, the candidate must bring all the relevant documents as per the requirement of the university.
Our Faculty
Here's our faculty with years of experience in providing coaching for all government and defence exams. The pedagogies that they follow are one of the most innovative and engaging. As students, you can ask them as many doubts as you want and they will be more than happy to help each time. Chandigarh Academy has been able to maintain an impressive track record only because of the hard work and dedication of its faculty.
Surjeet Singh
Radha
Rajwinder Kaur
Rajneesh Sharma
Rajvinder
Varun Kumar
Gurpreet Kaur

Charanjeev Singh
Pankaj Kumar
Vishavjeet Singh
Raghav Nehra
Neeraj Kapoor
Gagan Kumar
Gurpreet Singh
Shilpa Sharma
Ravinder Singh
Mukesh Kumar
Prateek Bandhu
Preeti
Poonam Sharma
How does it work?
Our process is very simple and straightforward. First, our counselors guide you in the right direction. Then, once you are well-prepared after your coaching, we help you prepare for the interview. We also provide form-filling assistance, in case you are not aware of the online application process.
Consult with Counsellor
Our counsellors are your first point of contact. They will guide you in the right direction.
Coaching (Online & Offline)
Feel free to choose from an online batch or classroom sessions. Both modes are available.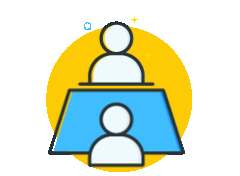 Interview preparation
Most of the exams have one interview round. We will groom you for a good face-to-face performance.
Application Guidance
In case, you need any assistance with the applications forms, we are always there to help.
Leading NDA Exam Coaching Institute in Chandigarh
3,647+ Students have achieved their goals with Chandigarh Academy. It's your turn now!
of our students have gained admission into their dream school/college
of our students have reported 100% satisfaction after completing their coaching.
of our students have cleared their entrance exam in the first attempt.
54,253+ individuals have trusted Chandigarh Academy to power up their careers
More than 54,253 people so far have trusted Chandigarh Academy to achieve their goals and dreams. If you too are looking to enjoy professional growth and better income prospects, your golden opportunity is here.
500+ 5 Star Student Reviews

100+ 5 Star Student Reviews
300+ 5 Star Video Reviews
FREQUENTLY ASKED QUESTIONS