NASA Tests Flexible Roll-Out Solar Array on Space Station
NASA Tests Flexible Roll-Out Solar Array on Space Station
NASA's new compact high-power solar array-the Roll Out Solar Array (ROSA)– has made its debut on the International Space Station, allowing astronauts to test the technology's durability for deep-space missions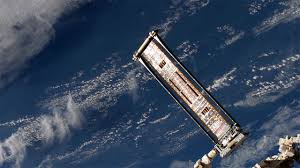 What you need to know about ROSA?
The Roll Out Solar Array (ROSA) is one of the options eyed by NASA that could power an advanced solar electric propulsion spacecraftthat makes possible such endeavors as the agency's Asteroid Redirect Mission—plucking a multi-ton boulder from an asteroid's surface, and then maneuvering that object into a stable orbit around the moon for human inspection and sampling.
Significance of ROSA:
The Roll-Out Solar Array (ROSA) is a new type of solar panel that rolls open in space like a party favor and is more compact than current rigid panel designs.
Tapping into ROSA technology allows the conversion of sunlight into electrical power that drives the ion thrusters of a solar electric propulsion spacecraft.
ROSA is expected to enable a number of space initiatives and is a cost-saving plus to transport cargo over long distances beyond the Earth.
ROSA has the potential to replace solar arrays on future satellites, making them more compact and lighter weight. Satellite radio and television, weather forecasting, GPS and other services used on Earth would all benefit from high-performance solar arrays.