Indian Navy Exam Coaching in Chandigarh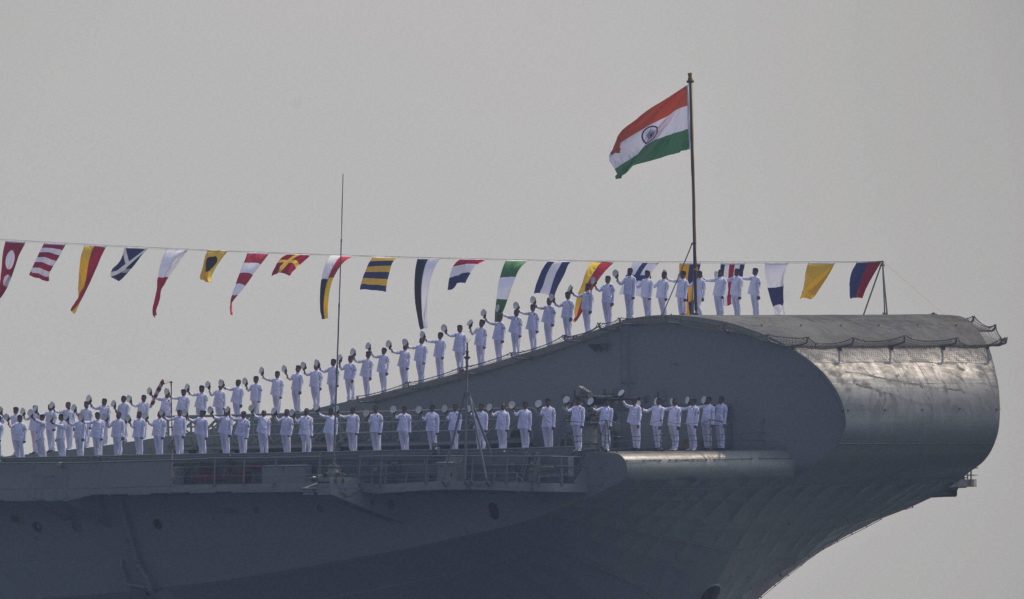 Indian Navy Exam Coaching in Chandigarh – ChandgarhAcademy is the Best Indian Navy Coaching institute Chandigarh. 100% results oriented coaching in Chandigarh. We provided a advancle level Best Indian Navy Coaching in Chandigarh. Indian Navy is an Indian enterprise, owned and operated by the Government of India through the Ministry of India.
Name  – Chandigarh Academy
Address – SCO-54-55, 3rd floor, Sector-34-A, Chandigarh, India
Phone Number – 9915109266
About Indian Navy
The Indian Navy is the naval branch of the Indian Armed Forces. The President of India serves as Supreme Commander of the Indian Navy. The Chief of Naval Staff, usually a four-star officer in the rank of Admiral, commands the navy.
Motto: शं नो वरुणः (Sanskrit); IAST: Shaṃ No Varunaḥ; (May the Lord of the Water be auspicious unto us)
Why Join Indian Navy?
You are choosing more than just a 'job'. We offer a unique way of exploring your life and provide ample opportunities to explore your potential in every sphere of life. We provide professional challenges along with security and comfort that is almost unparalleled.
For many people, the greatest attraction of a career in the Indian Navy is the variety of opportunities that make your career challenging. You can face the challenges and develop methods to exploit your full potential. Work in the Indian Navy offers you a chance to grow as a professional, by learning new skills and acquiring unrivalled experience in the process of applying those skills.
In the Indian Navy, you'll find there's much more to be gained than a regular salary. In fact, the experience that you gain in the Navy can help you shape your future, through adequate financial benefits, unparalleled careers potential, and personal growth that you've been waiting for.
Think about it. As long as you have the drive to make a difference in the world and in your own life, there will be a place for you in the Indian Navy. You can develop valuable skills and build a secure future.
If you are starting your career with zero professional experience or seeking to enhance your current skill-set and education, the Navy is a sure way to take your career to the next level.
EXPLORE THE WORLD
The ships and submarines of the Indian Navy often visit a number of foreign ports. The men who serve on these platforms get to visit the numerous foreign ports that these ships and submarines visit.
LEADERSHIP OPPORTUNITIES
A career in the Navy will provide ample opportunities to be able to prove your leadership skills. As your career progresses upwards, you'll find yourself shouldering greater responsibilities of managing larger and more complex teams and equipment. You will contribute to the safety and success of those around you. With time, you will hone the skills you need to motivate, train and communicate effectively. Skills that will benefit you beyond the Navy and in your everyday life.
WAYS OF BECOMING AN OFFICER IN THE INDIAN NAVY
In today's world, there are many possibilities for you to choose from, such as high-visibility, rapid-growth jobs in banking, computers, corporate management or civil services etc. While examining your options, have you considered the Indian Navy? The Indian Navy will give you all you need and help you make the most of what you have. Are you in search of a challenge? Are you young and bright and just out of school or university?
Have wide personal interests and hobbies, prepared to work hard and expect far more from your career than a remunerative pay packet? You need a challenge – work that grows with you and provides variety and excitement. That is what precisely the Navy offers you. The Navy offers an extraordinary range of exciting career opportunities together with the chance to travel widely, meet new people and to enjoy the warmth and camaraderie that is so special to this Service.
LEAVE AND TRAVEL CONCESSIONS
Officers and Sailors enjoy generous leave time. Officers are entitled to 60 days annual leave and 20 days casual leave. As a sailor you are entitled to 60 days annual leave and 30 days casual leave. You can also accumulate 30 days of leave in a year which you can encash at the time of retirement. The accumulation of leave has a limit which is stipulated from time to time.
Officers and their family members are entitled to free rail / air travel on leave once a year. Six travel concessions forms are also authorized to each officer for performing journey by train.
Sailors and their families are entitled to free rail travel on leave once a year. Travel concessions by rail/ air are also provided on other occasion.
HEALTH CARE
High-quality health-care is essential in case of medical emergency. Rising medical costs and skyrocketing insurance premia can make it difficult to afford quality medical care. In the Indian Navy, we pride ourselves in providing world-class medical care to each and every officer and sailor, as well as their families. This full comprehensive coverage is available at all Military Hospitals and Military Dental facilities.
EXPLORE THE WORLD
The ships and submarines of the Indian Navy often visit a number of foreign ports. The men who serve on these platforms get to visit the numerous foreign ports that these ships and submarines visit.
RECREATIONAL FACILITIES
Officers and Sailors alike have access to several recreational facilities. As an officer or sailor working on a ship or a base, it's not just 'all work and no play'. You will have the opportunity to work and live with other service members, as well as rest and relax away from the job.
ACCOMMODATION
Officers and sailors are entitled to free accommodation. Indian Navy takes pride in providing outstanding living areas and conditions for its Sailors and Officers. Most of the residential areas have markets, ATMs, playgrounds, swimming pool, gymnasium etc. Whether living in a barracks, an apartment or a house, you'll have access to all these amenities.
Navy housing is home to many families; moms, dads, kids and even some visiting grandparents.
CLOTHING
Officers are granted allowances periodically to stitch their own uniform. All sailors are entitled for free clothing. A kit maintenance allowance is also provided to officers and sailors every month to maintain their uniform.
RATION
All officers and sailors are entitled to free ration. Sailors can also seek money in lieu of ration while staying with their families.
NAVAL HOUSING SCHEMES
The Navy has special housing schemes in almost in major cities. Officers and sailors have an opportunity to acquire a modern, excellent apartment of their own in planned surrounding at a station of their choice for post-retirement settlement.
TRAINING
After you have cleared the selection process, you are sent to one of the naval training establishments. Here you undergo scientifically planned, rigorous physical and academic training that is aimed to gear you for life in the Navy.
All the naval training establishments are equipped with state-of-the-art training infrastructure and also the best of facilities, including clubs, swimming pools, squash courts etc. Once you join the training establishments, Navy will take care of all your requirements like boarding, lodging and clothing etc.
Choose ChandigarhAcademy for Navy Exams Coaching
Experienced & Subject Specific Expert Faculties
Unique & Complete Study Material
70% + Questions Directly from Our Classroom Notes
Each student is given equal attention and helped till final selection
Highly qualified and experienced Faculty for competitive Exams
30 days,3 Months/6 Months and 1 year course
 Best study material provided for each course
Best hostel and PG facility provided by us
Fully Furnished classrooms with good infrastructure.
Educational Qualification
Candidates who which to apply for these posts should have passed 10+2 or equivalent examination with Physics, Maths and at least one of these Subjects, Chemistry/Biology/Computer Science.
Age Limit
Candidates who want to apply for these posts should have been born between 01-02-1996 to 31-01-2000.
Selection Process
Candidates will be selected on the basis of written test, Physical Fitness Test (PFT) and fitness in medical exam.
Physical Fitness Test (PFT)
| | |
| --- | --- |
| 1.Race | 1.6 KM Within 7 Minutes |
| 2.Pushups | 10 |
| 3. Squats(Situps) | 20 |
Contact Address – Indian Navy Coaching Academy
Name  – Chandigarh Academy
Address – SCO-54-55, 3rd floor, Sector-34-A, Chandigarh, India
Phone Number – 9915109266