Military School Coaching in India
Chandigarh Academy – The best coaching center for Military School Coaching in India.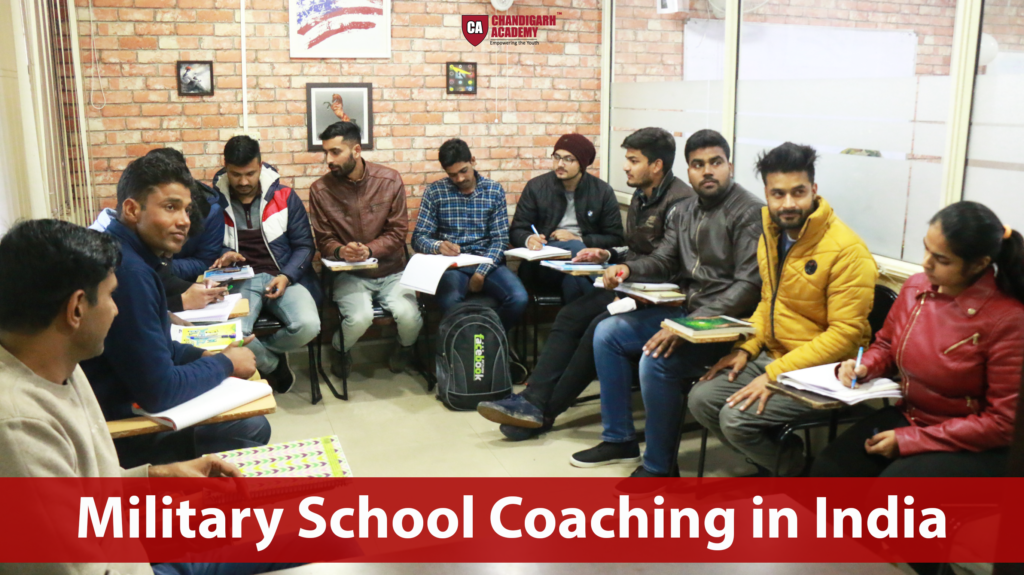 Chandigarh Academy dominates the segments of Military School Examination across India. We maintain the teaching standard at True maths compared to the rest of institutes and Entrance School Entrance Exam coaching center in India, once you experience the service, we deliver with a load of professionalism and knowledge, you will find that True Maths is far ahead of the other Military School Entrance Examination Academies. In term of technology, we are totally connected with the candidate. Suppose If Students may have come throughout any query after the conduction of class, the faculties come over the students' queries to solve through the videos and link based on provided by true maths.
Chandigarh Academy provides such an aura where candidates interact with a magnificent model of learning where they can crack a competitive exam of Military school entrance exam. India is full of competitive exam academies and coaching centers and those academies probably have professional faculties and good study stuff, in spite of having good faculties and study stuffs often make candidates tough enough onto the trail on Sainik school entrance exam because without an atmosphere one cannot groom.
Apart from teaching related to Military school entrance exam, Chandigarh Academy provides the entire study material to students, therefore, the more can be learned during the time period of coaching of Military school entrance exam, for example:- the previous Military school entrance exam model papers, the books which are much required for entrance exam of Military school and previous sample papers of entrance exam.
Chandigarh Academy is one perfect hub for all of Army school entrance competitive examinations. Once you get in the touch with us, we assure the best experience what you might get with some other Military school entrance exam coaching center in entire India.
                                The more you believe us the better we serve you!
Preparation- Sainik School entrance exam 2018, Chandigarh Academy is the best choice for Sainik School Coaching in Chandigarh.
Age limit
Only boys between 10 to 11 years of age for Class VI and boys between 13 to 14 years of age for Class IX as on are eligible for admission. Six months of relaxation in upper age limit is permissible for the wards of personnel Killed in Action.
Rashtriya Military & Army School Coaching
Rashtriya military school entrance exam coaching centre have outstanding training facilities and expert trainers for RMS/ RIMC / Sainik School Entrance Examinations such as "CET", "RIMC ENTRANCE EXAMINATION" on behalf of Rashtriya Military Schools, AISSEE, Another Entrance Tests, mock tests, well-organized curriculum, solving of preceding years question papers also condensed study substantial.
Their vision is to perceive that within a small number of years the standing Rashtriya Military Schools / RIMC / All India Sainik School to have a bulk of cadets qualified by Army school entrance exam coaching institute. One of the main elements that include a well-shaped military is the training.
Today for each course of the entrance exam for RMS/ RIMC/Army/Sainik School students need to train by the coaching institute on behalf of the Entrance Exam. The Training for each serious student this institute is the leading choice. while an applicant report to the coaching institute for Entrance Exams like "Common Entrance Test" "RIMC ENTRANCE EXAMINATION" aimed at Rashtriya Military Schools, Chandigarh Academy. They understand the importance of the subject and their responsibilities to the applicant to achieve his vision goal, that is the actual reason that the produce what they have made is the best also unmatchable.
Entrance Examinations like "RIMC ENTRANCE EXAMINATION", "Common Entrance Test" on behalf of Rashtriya Military Schools, also the All India Sainik School Entrance Examinations, Another Entrance Examinations is a very dedicated training where they look at numerous aspects of an applicant and train the persons to take his best as well as at the entrance examination and Interview, he is able to appear with complete confidence. They cover the complete range of Selection Methods, initial screening as well as other training modules to develop the complete personality. Army school entrance exam coaching institute's Training is planned not only to create a candidate fruitful in Entrance Exams like "Common Entrance Test", "RIMC ENTRANCE EXAMINATION" on behalf of Rashtriya Military Schools, Chandigarh Academy, Another Entrance Tests however also to build a sound basis for future distinct developments also career growth.
Through the military training arrangement in place, acquaintance with weapons also firing is not the only helpful gain. Whether the stationary firing is experienced, move also fire drills, otherwise, training in diverse scenarios is undergone, physical features are improved. Stamina, Posture, strength, also dexterity are fair a few instances of the improvements. Shooting endorses posture. With well-adjusted posture, correctness and speed grow plus shooters mobility upsurges. Stamina stems as of the continuous up and down, aiming, plus physical push necessary performing the active states. Strength is developed with the monotonous motion that military training arrangements do for warriors. Dexterity, as well as the flexibility, is enhanced performing the skills advanced during training.
Rashtriya military school entrance exam coaching institute are grateful for the sacrifice and service their servicemen, as well as women, give to the country and all individuals. Their shooting ranges in addition to products are planned with military besides law enforcement personnel in attention.