Sainik School Coaching in India
Sainik School Coaching in India – Chandigarh Academy provides the best coaching for Sainik School Exam in India. One of The Best Coaching Institute For Sainik Schools, Military Schools, Navodaya Schools, RMS Entrance Exam in India.
We already trained 500+ students for Sainik School Exams, Having great experience Faculty members + Complete Study material for Sainik School Examination + we do provide hostel facility for outsider students & parents.
Sainik School Coaching in India
Daily Classes + Full Study Material + 100% Results
Call

+91-9915109266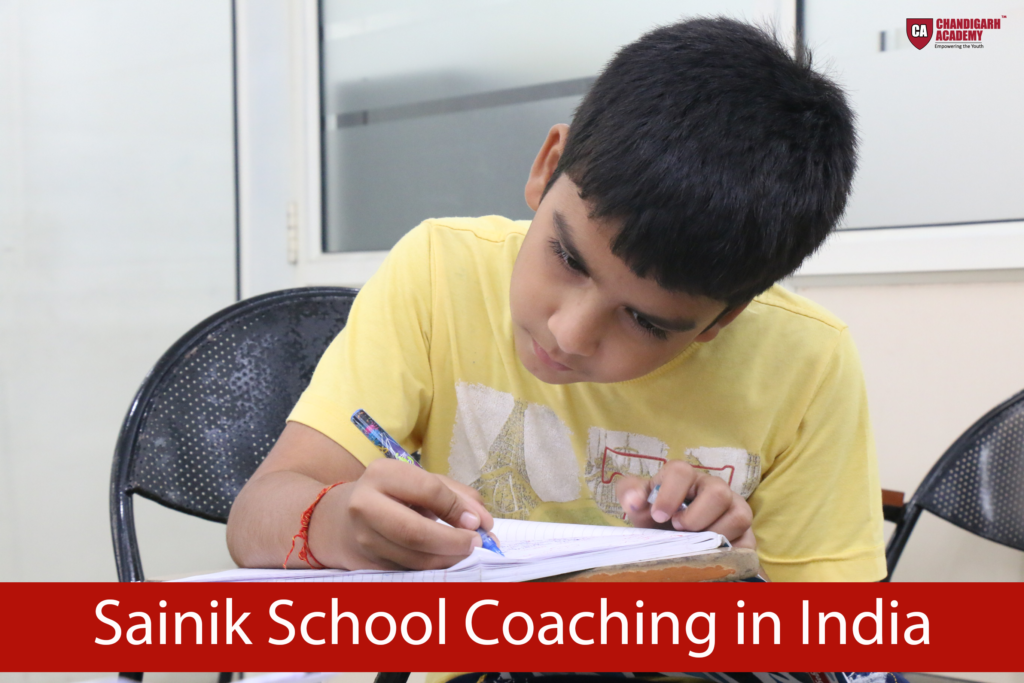 Introduction to Sainik Schools
The Scheme to establish Sainik Schools was started in 1961 to broad base recruitment and remove regional imbalance in the officer's cadre of Defence Forces. Sainik Schools are a joint venture of the Central and States Governments. At present 18 Sainik Schools are being administered by Sainik Schools Society.
The medium of instructions in Sainik Schools is English although knowledge of English is not a pre-requisite for admission in these schools. Schools give due attention to both co-curricular and extra-curricular activities for all-round development of their cadets. These schools are affiliated to Central Board of Secondary Education and follow 10+2 pattern in science stream only
Sainik School Coaching in India –

Chandigarh Academy
Welcome to CHANDIGARH ACADEMY. It is an institution which prepares the students for the entrance examination for Sainik school, Military school, RIMC Dehradun, Navodaya school, mayo college Ajmer and other best leading boarding school of India. We have well-experienced teaching faculty who placed several students in Sainik school, military school and other boarding schools. We care for each student like an individual.
We have taken education to the next level by our innovative teaching techniques. I feel proud to see the performance of our alumni placed at several prestigious schools across the country. Focus on the overall development of every individual is the key to their success that makes them excel.
I would also like to thank all students, parents and business community for their huge applause which works as a catalyst to keep us moving ahead. We endeavor always to maintain our leading position through our commitment, devotion, dedication, and innovation. I assure the quality of our education will remain intact ever.
Sainik School Entrance Exam Coaching Classes In India| Entrance Exam Coaching India
ChandigarhAcademy.com is the Biggest Institutes Portal In India for Entrance Exam Coaching For Rashtriya Military College (RIMC)/ Military School / Sainik School. We Covering The Students From Entire Country. We are first of Its Kind In Providing Professional Coaching For Entrance Exam For RIMC / RMS/ Sainik School And Training For All Types Of School In Armed And Para Military Forces. Entrance Exam Training Is Handled by a Team of Professional Trainers Who Are Experienced Ex-faculty Of Various Military School / Sainik School / Army Schools Of Country. We Have A Team Of Teachers To Impart Interview Training And Our Faculty Frequently Updates The Changes That Are Included In The RIMC / RMS/ Sainik School For Selection. For Physical Training We Have Vast Out Door Tasks Facilities And State Of The Art Indoor Training Aids And Facilities.
Books & Study Material
Entrance Exam Study Material and books are handled and designed by our team of professional trainers who are highly experienced in this field.
Our faculty frequently updates the changes that are included in the RIMC / RMS / Sainik School Entrance Exam as per latest Syllabus and Exam Pattern. Our team is always in touch with various Examination committees on the latest exam pattern and syllabus.
SAINIK SCHOOL ENTRANCE EXAM ELIGIBILITY
Eligibility for VI Class
Educational Qualification
The aspiring students must have completed their previous years' education from recognized school to get admission to Sainik School. For SC candidates 15% and for ST candidates 7.5% of total seats are reserved. 25% of seats are reserved for the children of service personnel and ex-servicemen.
Age Limits: 
Boys aged between 10 and 11 years are eligible to appear for the entrance exam to VI standard
Boys aged between 13 and 14 years are eligible for IX standard.
SAINIK SCHOOL ENTRANCE EXAM SYLLABUS
Syllabus for Class IX
| | |
| --- | --- |
| Subjects | Marks |
| Mathematics and Science | 200+75 |
| English and Social Studies | 100+75 |
Syllabus for Class VI
| | |
| --- | --- |
| Subject | Marks |
| Mathematics and Language Ability Test | 200 |
| Intelligence Test | 100 |
Sainik School Entrance Exam Pattern
The medium of examination for Class IX is English. However, students are allowed to write an exam in any of their preferred languages.
For the Class VI students, question papers will be prepared in English, Hindi and all other recognized regional official languages.
Question paper pattern keeps on changing every year. The syllabus for the VI and IX entrance exams is usually based on the NCERT books of V and VIII respectively.
HOW TO APPLY FOR ALL INDIA SAINIK SCHOOL ENTRANCE EXAM
Aspiring Candidates can obtain a prospectus, application form and question papers from the Principal of the respective Sainik schools at the residing place of the candidate.
However, applicants can also take application forms online from the official website of CBSE. These application forms have to be duly filled and send along with the application fee to the regional office address in New Delhi.
Contact Details of Sainik School Coaching in India
Name: Chandigarh Academy
Address: SCO 54-55, 3rd Floor, Sector 34A, Chandigarh – India
Phone Number: +91-9915109266